Apple Pay Later Officially Launches in U.S. Following Early Access Period
Apple Pay Later appears to have officially launched for all qualifying U.S. residents today, as it is now widely available in the Wallet app on the iPhone. The feature had been available on an invite-only "early access" basis since March.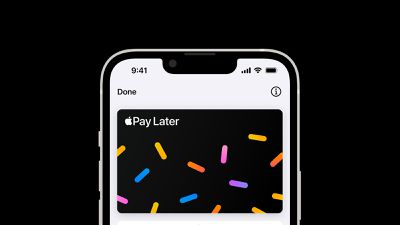 Apple removed the following sentence from all Apple Pay Later support documents today:
Apple Pay Later is currently only available to customers invited to access a prerelease version.
Apple Pay Later is a "buy now, pay later" feature that lets qualifying customers split a purchase made with Apple Pay into four equal payments over six weeks, with no interest or fees. The feature is available for eligible purchases between $75 and $1,000 made on an iPhone or iPad on most websites and apps that accept Apple Pay.
The minimum purchase amount required to use Apple Pay Later was $50 during the early access period, but Apple has now raised it to $75.
Every purchase made using Apple Pay Later is a separate loan and requires a new application, which has no impact on your credit score, according to Apple. The feature is available to U.S. residents who are 18 years of age or older. Apple Pay Later is currently unavailable in Hawaii, New Mexico, Wisconsin, and the U.S. territories.
Apple Pay Later is part of the Wallet app on the iPhone, and found in the Settings app under Wallet & Apple Pay on the iPad. Users can view, track, and manage loans, with upcoming payments shown on a calendar and payment reminders sent via Wallet notifications and email. Users must set up a debit card as a loan repayment method.
A software researcher known as @aaronp613 had previously discovered that Apple Pay Later would launch by November 1 following invite-only testing.