Camera Comparison: iPhone 15 Pro Max vs. Pixel 8 Pro
Both Apple and Google came out with new high-end flagship smartphones this autumn, debuting the iPhone 15 Pro Max and the Pixel 8 Pro, respectively. As with any expensive smartphone, the cameras in both produce amazing images, but there are some notable differences that can be seen in our comparison video and article.
The ‌iPhone 15 Pro‌ Max has a triple-lens camera system with 48-megapixel Main (wide) camera that can be set to three focal lengths, a 12-megapixel Ultra Wide camera, and a 12-megapixel Telephoto lens that supports up to 5x optical zoom. The Pixel 8 Pro also has a triple-lens camera system with 50-megapixel Wide camera, a 48-megapixel Ultra Wide camera, and a 48-megapixel Telephoto camera also with 5x optical zoom.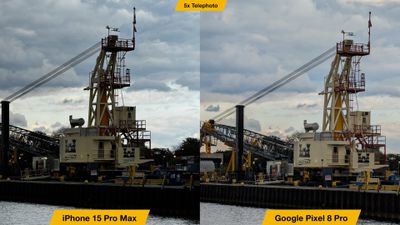 The Google and Apple camera systems have similarities in available lenses and technologies like portrait mode, night mode, HDR, and more, but there are different software algorithms that are at work under the hood, and that's what brings in some of the biggest differences that we're seeing.


When it comes to landscape images that show a lot of sky, the ‌iPhone 15 Pro‌ Max looks more natural. The colors are more accurate and the differences between sky and cloud are more pronounced for an overall better looking image. The Pixel 8 Pro trends toward a more blue tint for sky images, and it also has a tendency to overexpose in some shots. You'll also notice that the Pixel photos tend to be brighter, while the iPhone photos are downright moody.


There are definite themes to color temperature, saturation, exposure, and other factors. Several of the ‌iPhone 15 Pro‌ Max images feel oversaturated compared to the Pixel 8 Pro, with Apple giving deeper blacks and more vibrant colors, while Google's images have a brighter feel with contrast bumped down. In the taxi image, for example, the cars were not that shade of yellow that Apple produced, but both images look good and choosing a favorite will depend on whether you prefer images that are more saturated or brighter.


Apple's 5x Telephoto lens is limited to 12 megapixels and it does not have the wide aperture of the Main lens, so it should not be a surprise that the images that come out of it look different in terms of sharpness and saturation. 5x images from the ‌iPhone 15 Pro‌ Max and the Pixel 8 Pro look similar in most instances, but the Pixel 8 Pro seems to have more pronounced textures because the images are brighter with the contrast bumped up a bit more than what we're getting with the ‌iPhone 15 Pro‌ Max.


Apple's 5x zoom lens has an edge when it comes to portrait mode because it can capture 5x portraits, while the Pixel is limited to 2x portraits. The ‌iPhone‌ really wins out in terms of background blur, and even in portraits with other lenses, Apple is doing better with color, skin tone, and blur. The Pixel's portrait images sometimes come out better in situations with lower light.


As for night shots, iPhones have always been a bit ahead in terms of a natural look, and that hasn't changed. The nighttime images from the ‌iPhone 15 Pro‌ Max are more true to life, while the Pixel 8 Pro is much brighter and doesn't have the same nighttime mood.


Apple's video stabilization has always been tough to beat, and the ‌iPhone 15 Pro‌ Max produces better video than you get with the Pixel 8 Pro. Google has caught up somewhat with its latest smartphones, but Apple remains a step ahead. For pros, Apple also has an option for ProRes Log recording, so you can record a flat image that can be used with custom LUTs in post-processing.


Google has added some fun AI features to its camera that Apple can't compete with. Best Take, for example, sorts through multiple group photos that have been captured and finds the best shot. You can go change each person's face, swapping in from another in the series so that each person is smiling and looking at the camera. Magic Editor lets you erase objects in an image and uses generative AI to fill in the blank spot, and the Audio Magic Eraser can pull out unwanted sounds.


Which images do you prefer? ‌iPhone 15 Pro‌ Max or Pixel 8 Pro? Let us know in the comments below.