Apple Releases iOS 16.7.1 for Older iPhones and iPads
Apple today released iOS 16.7.1 and iPadOS 16.7.1, new software updates that can be downloaded on iPhones and iPads that are not able to run iOS 17, or those that have not yet been updated to the new operating system. iOS 16.7.1 comes a few weeks after Apple released iOS 16.7.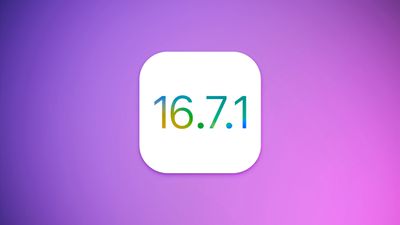 The software can be downloaded on eligible iPhones and iPads over-the-air by going to Settings > General > Software Update.
With ‌iOS 17‌ now out, iOS 16 updates are limited to security improvements and performance optimizations. New features will be added to ‌iOS 17‌ rather than iOS 16.
The iOS 16.7.1 update likely addresses the same kernel vulnerability that Apple fixed in iOS 17.0.3 last week. The issue was exploited on versions of iOS before 16.6, according to Apple.