Pixel Pals 2 Brings an Interactive Friend to Your Home Screen Widgets
Apple in iOS 17 added interactive Home Screen widgets for the first time, and developer Christian Selig is using the new functionality to make his Pixel Pals app better than ever.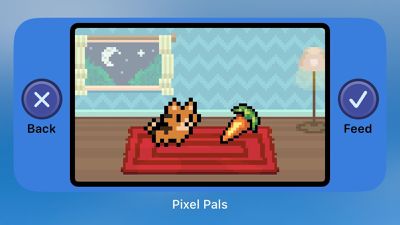 With Pixel Pals 2.0, you can adopt a digital pet that lives on your ‌Home Screen‌, and you can interact with it in all new ways without the need to open up the app.
You can feed and play with your Pixel Pals, and add your friends so their Pixel Pals can visit your ‌Home Screen‌. Two Pixel Pals together can battle one another, and in StandBy mode, your Pixel Pal can hang out next to you or you can use a new sheep counting feature.
I just released Pixel Pals 2! 🎉 With iOS 17 you now have a FULL virtual pets experience where you can add and battle friends, and play full games, like PixelQuest, 2048, and Eternal Stroll, all right on your literal home screen! (Plus fidget spinners, mech keyboards, and more!) pic.twitter.com/BAFmERPpXu — Christian Selig (@ChristianSelig) September 21, 2023
You can also plant seeds on a farm to grow food for your pet, and there are new animals and morphs to unlock. As your friendship with your Pixel Pal grows, you will unlock more morphs. Selig has also added in full games that can be played on the ‌Home Screen‌ in a widget, including PixelQuest, 2048, and Eternal Scroll.
Christian Selig is the developer behind the now-defunct Apollo app for Reddit, which was removed for sale earlier this year. He is now focusing his attention on Pixel Pals.
Pixel Pals is free to download, but unlocking the app's full feature set requires Pixel Pals Premium, priced at $9.99 per year or $1.49 per month.