Apple Says Fingerprints Can 'Temporarily Alter the Color' of iPhone 15 Pro's Titanium Frame
In a support document updated today, Apple indicates that fingerprints might "temporarily alter the color" of the titanium frame on the iPhone 15 Pro and iPhone 15 Pro Max. Fortunately, Apple says this is not a permanent condition, as the fingerprints can be wiped off just like on any other iPhone to restore a clean finish.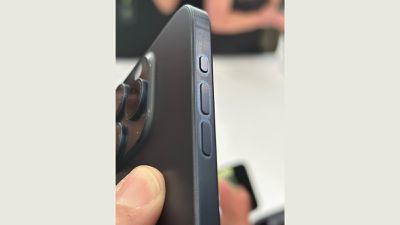 "For iPhone 15 Pro and iPhone 15 Pro Max, the oil from your skin might temporarily alter the color of the outside band," says Apple. "Wiping your iPhone with a soft, slightly damp, lint-free cloth will restore the original look."
Photos of iPhone 15 Pro models with visible fingerprints on the titanium frame have been circulating on social media since the devices were announced last week, but customers should not be concerned about permanent damage. None of this information should be a surprise, but now it is on the record from Apple.
All of the iPhone 15 models launch this Friday, with orders already beginning to arrive to customers in Australia and New Zealand.