Apple Explains Why iPhone 15 Pro Max is Limited to 5x Optical Zoom
In an interview with Numerama's Nicolas Lellouche, Apple's VP of camera software engineering Jon McCormack explained why the iPhone 15 Pro Max's tetraprism lens system is limited to 5x optical zoom, instead of 10x like on Samsung's Galaxy S23 Ultra. The interview is in French, so quotes below are computer translated.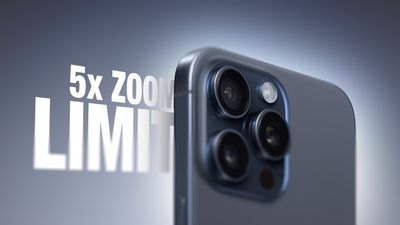 Apple says the Telephoto lens on the iPhone 15 Pro Max features the company's most advanced camera stabilization system yet, with a combination of optical image stabilization and an autofocus 3D sensor-shift module. McCormack said the iPhone's 5x zoom lens can be stabilized "incredibly well" compared to a 10x lens.
"The 5x zoom is something that we can stabilize incredibly well," McCormack said in the interview. "If you look at the 10x zoom, unless you have the steadiest hands in the world or a tripod, it's really difficult to use."
Apple's senior director of iPhone product marketing Maxime Veron, who was also interviewed, added that the iPhone 15 Pro Max's 5x lens opens at ƒ/2.8, allowing for "excellent light management." By comparison, the Galaxy S23 Ultra's 10x lens has a ƒ/4.9 aperture. A lower aperture allows for more light to be captured by the camera's sensor, which can be especially beneficial for Night mode photos.
5x optical zoom is exclusive to the iPhone 15 Pro Max, with the iPhone 15 Pro remaining limited to 3x optical zoom. It has been rumored that Apple plans to expand the tetraprism lens system to both iPhone 16 Pro models next year.
McCormack and Veron discuss the latest camera innovations on all iPhone 15 models in more detail in the Numerama interview. The devices launch Friday.