Apple Supports Right to Repair Bill in California
Apple has made headlines for lobbying against right to repair laws in recent years, but this week the company decided to express support for California's Right to Repair Act, SB 244.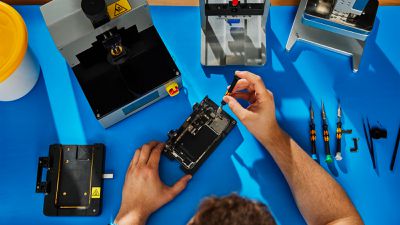 As noted by repair site iFixit, Apple yesterday sent a letter to California senator Susan Talamantes Eggman urging the California legislature to adopt the bill.
SB 244 would require companies to provide customers with the tools to diagnose and repair consumer electronics and appliances. Apple has already launched a Self Service Repair program for iPhones and Macs, with this program offering customers repair kits, repair manuals, and components for repairs.
Apple likely meets the requirements of SB 244 with the Self Service Repair program and with the repair programs that it has for repair shops, including options to become Apple Authorized Service Providers and to receive parts through the Independent Repair Provider Program.
California's bill also says that service and repair facilities that are not authorized repair providers for a company must disclose if they're using replacement parts that are used or not from the manufacturer. That means an independent iPhone repair shop in California would be required to source parts from Apple or to inform customers that device repairs are done with counterfeit components or used parts.
Further, the bill has a component that prevents manufacturers from being required to make tools, parts, and documentation available for any component that would disable or override antitheft security measures, which would encompass features like Face ID.
Independent repair shops already have the option of purchasing components from Apple, but have complained that Apple forces them to sign invasive contracts. As for the ‌Self Service Repair‌ Program, the kits and components that Apple sells are not much more affordable than simply getting a repair from an Apple Store.
In its letter, Apple said that it would continue to support the bill so long as it provides "protections for customers and innovators." Apple highlights specific components of the bill that encompass the protections that it prefers.

Assurances that the bill would not threaten consumer safety and data security by requiring that manufacturers allow repair providers to disable device security features, many of which have been requested by law enforcement agencies and required by law to thwart theft,

Focus on requiring manufacturers obligations to provide the documentation, tools, and parts to enable the repairs performed by authorized repair channels, as opposed to a broader undefined scope of repairs which may compromise consumer physical safety, repair reliability, and device integrity,

Requirements that repair providers disclose the use of non-genuine or used parts, and

Prospective application that would allow manufacturers to focus on building new products that comply with the proposal.
Apple has not in the past supported Right to Repair legislation, but SB 244 is not as open-ended as some of the past repair bills that states have promoted, and is not a free pass for repair shops as it includes consumer protections that prevent repair facilities from surreptitiously using substandard repair components. The bill would require components, repair manuals, and other necessary repair information to be made available for seven years for any product that costs more than $99.99, a move that would also undoubtedly benefit California customers. The full letter that Apple sent in support of the bill is available to read on Scribd.