iPhone 15 Pro's A17 Chip Said to Feature 6 GPU Cores, Support for 6GB RAM
Apple's upcoming A17 chip that is set to be used in the iPhone 15 Pro and ‌iPhone 15 Pro‌ Max models includes a 6-core CPU and a 6-core GPU, according to leaker Unknownz21. The current A16 chip has a 6-core CPU and a 5-core GPU, so the A17 will bring notable GPU improvements to the new higher-end iPhone models.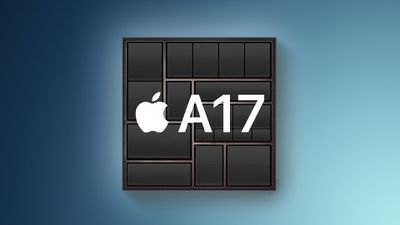 The A17 chip will feature a 3.70GHz maximum clock rate, up from 3.46GHz in the A16 chip. Notably, the information shared by Unknownz21 suggests that the ‌iPhone 15 Pro‌ models will feature the same 6GB RAM that's available in the iPhone 14 Pro models. Prior rumors have said the ‌iPhone 15 Pro‌ and Pro Max would have 8GB RAM, which the leaker says is "unlikely," but not impossible.
Apple A17 - t8130 - Coll 6 CPU Cores + 6 GPU Cores
3.70 GHz
6GB LPDDR5 DRAM - Micron/Samsung
TSMC 3nm Process LPDDR = Low Power Double Data Rate SDRAM The A17 is used by both the D83 and D84, also likely planned for D47 and D48 (16 series), as the D9x will use t8140 (A18). — Unknownz21 🌈 (@URedditor) August 9, 2023
Built on a new 3-nanometer process, the A17 chip will bring speed and efficiency improvements to the ‌iPhone 15 Pro‌ and Pro Max. We should see a decent increase in GPU performance along with faster CPU speeds and perhaps better battery life compared to the A16, which is built on a 4-nanometer process. Performance could increase by 10 to 15 percent, while power consumption could be down by up to 30 percent.
Because 3nm technology is new, the A17 chip is expensive to manufacture, which means it will only be available in the ‌iPhone 15 Pro‌ and ‌iPhone 15 Pro‌ Max. The standard iPhone 15 models will adopt the A16 chip, which is currently limited to the ‌iPhone 14‌ Pro and ‌iPhone 14‌ Pro Max.
Apple is expected to unveil the new iPhones in September, and current signs suggest the ‌iPhone‌ event will be held on Tuesday, September 12. For more on what's coming, we have dedicated iPhone 15 and iPhone 15 Pro roundups that aggregate all of the rumors we've heard to date.