iPhone 15 Pro Said to Be Easier to Repair Like iPhone 14 and 14 Plus
Following in the footsteps of the iPhone 14 and iPhone 14 Plus, the upcoming iPhone 15 Pro and iPhone 15 Pro Max will have a redesigned chassis that makes the devices "easier to repair," according to Bloomberg's Mark Gurman.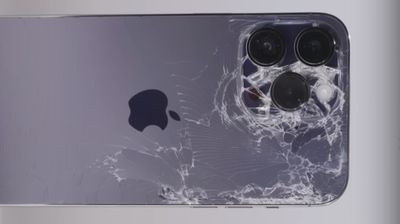 This change could result in the iPhone 15 Pro models having removable back glass. With the chassis redesign, the iPhone 14 and iPhone 14 Plus became the first iPhone models that can be opened from both the front and back sides of the device since the iPhone 4S in 2011. The internal redesign did not extend to the iPhone 14 Pro models, which can still only be opened from the display side, at least for authorized repairs.
Removable back glass would likely lead to significantly lower repair fees for iPhone 15 Pro models with cracked back glass for customers without AppleCare+ coverage. Apple's out-of-warranty fees for the iPhone 14 and iPhone 14 Plus with back glass damage range from $169 to $199, compared to $499 to $549 for iPhone 14 Pro models.
iFixit's Kyle Wiens last year said the iPhone 14 represented "the most substantial iPhone redesign" since the iPhone X given the increased repairability. He added that the changes were "such a big deal that it should have been Apple's big announcement—the iPhone has been redesigned from the inside out to make it easier to repair."
Apple is expected to unveil the iPhone 15 lineup in September. Gurman reiterated that all of the devices will be equipped with a USB-C port and the Dynamic Island, while he expects the Pro models to feature a titanium frame, thinner bezels around the display, a faster chip manufactured with TSMC's 3nm process, a customizable Action button, and more. He believes price increases are possible in some countries, at least for the Pro models.