Apple and Goldman Sachs Crediting Some Customers Who Had Long Waits for Savings Withdrawal Requests
Some customers who had a poor experience with their Apple Savings accounts handled by Goldman Sachs are receiving one-time credits, according to an email received from MacRumors reader Michael, who made a withdrawal in May.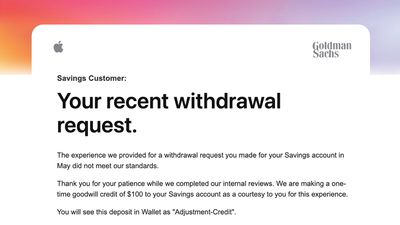 "The experience we provided for a withdrawal request you made for your Savings account in May did not meet our standards," reads the email. As a thank you, Apple and Goldman Sachs informed Michael that he would be receiving a one-time "goodwill credit" of $100 to his savings account.
It is not clear how many Apple Savings users have received these credits, but the bonus likely stems from issues that some customers ran into over withdrawal waits.
In June, a report from The Wall Street Journal suggested that multiple Apple Card customers were having trouble withdrawing money from their accounts, which are handled by Goldman Sachs. Some customers who transferred thousands of dollars were waiting for weeks for their money.
Goldman Sachs in a statement said that the issues had come up due to security processes designed to protect customer accounts. It is possible that customers triggered anti-money laundering alerts by transferring large amounts of money into a newly opened account.

"The customer response to the new savings account for Apple Card users has been excellent and beyond our expectations. While the vast majority of customers see no delays in transferring their funds, in a limited number of cases, a user may experience a delayed transfer due to processes in place designed to help protect their accounts."
Affected customers complained of Goldman Sachs' customer service, indicating that they were receiving different information each time they called in to speak with the company.
Recent reports have suggested that Goldman Sachs is looking to end its partnership with Apple as it wants to cut back on its consumer business. Goldman Sachs is reportedly in talks with American Express about a potential takeover, but no deal has been reached.
Goldman Sachs recently extended its partnership with Apple through the end of the decade, but it has run into problems with the scale of Apple's business. Last year, for example, Goldman Sachs was subjected to an investigation by the U.S. Consumer Financial Protection Bureau after customers experienced long wait times for disputed transactions. Goldman Sachs was reportedly not prepared for the number of chargebacks that it had to deal with.
Apple uses Goldman Sachs for the ‌Apple Card‌, Apple Savings account, and Apple Pay Later features. Offered since April, the Apple Savings account is available to ‌Apple Card‌ holders, and it provides a 4.15 percent interest rate on Daily Cash and other deposits.