Apple Vision Pro to Feature Custom-Designed Low Latency DRAM Chip Supplied by SK Hynix
Apple's Vision Pro headset will use a new type of dynamic random access memory, or DRAM, that has been custom designed to support Apple's R1 input processing chip, reports The Korea Herald.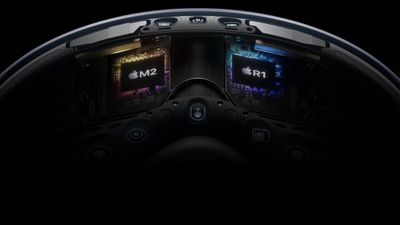 Apple Vision Pro is powered by a pair of chips. The main processor is the M2, which is responsible for processing content, running the visionOS operating system, executing computer vision algorithms, and providing graphical content.
The R1 chip meanwhile processes all of the information coming from the 12 cameras, five sensors, and six microphones in the headset, and streams images to the displays within 12 milliseconds – eight times faster than the blink of an eye – providing the wearer with a virtually lag-free view of the world.
To support the R1's high-speed requirements, the headset will reportedly use a 1-gigabit low latency DRAM chip supplied by SK hynix that features an increased number of input and output pins to minimize delays.
The DRAM chip is also said to utilize a unique packaging method called Fan-Out Wafer Level Packaging, which enables it to be attached to the R1 chipset as a single integrated unit, allowing for a doubling in processing speed.
Apple's $3,500 headset is set to go on sale early next year. Chinese contract manufacturer Luxshare will initially assemble the device. However, according to one report, Apple may limit production to fewer than 400,000 units in 2024, due to issues related to the supply of the two micro-OLED displays for the wearer's eyes and the outward-facing curved lenticular lens.