TestFlight Now Supports visionOS Apps
Apple today updated the TestFlight app to support apps designed for the first visionOS beta, which means that developers may soon be able to use TestFlight for testing apps designed for the Apple Vision Pro headset.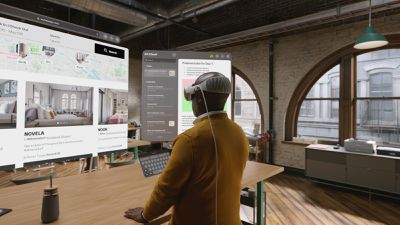 "TestFlight now supports visionOS apps for internal and external testing, as well as testing iOS and iPadOS apps on ‌visionOS‌," reads Apple's developer update on the functionality.
Of course, no one has an ‌Apple Vision Pro‌ headset to use at this point in time, but Apple has said that it plans to offer Apple Vision Pro developer kits at some point this month.
Apple has not provided details on how the developer kits will work, but Apple says that they will help developers bring their creations to life on Vision Pro, providing an opportunity to build, iterate, and test on the headset.
Kits will be offered starting in July, with Apple planning to allow developers to apply to get a kit. Apple may require developers to purchase an ‌Apple Vision Pro‌ headset to create apps for it, but the purchase price will include access to beta software, developer labs, discussion forums, technical support, and other resources if the ‌Apple Vision Pro‌ development kit is similar to the Apple silicon development kit.
The last developer kit that Apple offered was a Mac mini with an Apple silicon chip inside in 2020, and it was provided to developers to help them transition from Intel to Apple silicon. Apple sold the Mac mini machines for $500, but developers had to return them at the end of the testing program.
Apple also plans to soon let developers visit ‌Apple Vision Pro‌ developer labs that will be available in Cupertino, London, Munich, Shanghai, Singapore, and Tokyo.
The latest version of TestFlight also now supports apps built with the third Xcode 15 beta for iOS 17, iPadOS 17, macOS Sonoma, tvOS 17, and watchOS 10.