iOS 17 and macOS Sonoma Add Passkey Support to Your Apple ID
Starting with iOS 17, iPadOS 17, and macOS Sonoma, users with an Apple ID will automatically be assigned a passkey, allowing them to sign into their Apple ID with Face ID or Touch ID instead of their password on various Apple sign-in pages, including icloud.com, appleid.apple.com, appstoreconnect.apple.com, and more.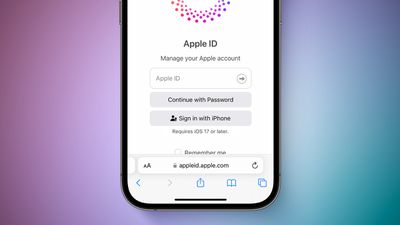 Passkeys are a more secure alternative to passwords. Apple explains:
A passkey is a cryptographic entity that's not visible to you, and it's used in place of a password. A passkey consists of a key pair, which—compared to a password—profoundly improves security. One key is public, registered with the website or app you're using. The other key is private, held only by your devices.
Passkey support for Apple IDs will also be available for third-party apps and websites that support the "Sign in with Apple" feature.
Users running beta versions of iOS 17, iPadOS 17, and macOS Sonoma can test this functionality on supported Apple sign-in pages starting today, but it does not yet appear to be available for everyone. All users with an Apple ID will be able to sign in with a passkey once the software updates are released to the public later this year.
Passkey support on the Apple ID page was spotted earlier by Twitter user @aaronp613.