Vision Pro With Mystery USB-C Adapter Spotted in WWDC Video
At various points in Apple's Platforms State of the Unions video for developers, a Vision Pro headset with a USB-C adapter attached to the right side of the headset can be seen, leading to some speculation on social media as to what the adapter is for.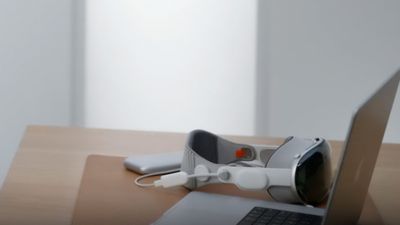 It appears that the adapter has a USB-C cable leading to a Mac Studio in one shot, although there is no definitive view to confirm this. In this scenario, it is possible the adapter could provide a direct connection to a Mac for visionOS app development in Xcode, but the adapter's purpose ultimately remains a mystery for now.
The Vision Pro's external battery pack attaches to the left side of the headset, so the USB-C adapter is connected on the other side.
Vision Pro isn't launching until early 2024, so we'll learn more details about the headset over the coming months. Apple will also be making Vision Pro developer kits available in July, which could help to paint a better picture.