Apple's Vision Pro Headset Features Swappable Headbands and Light Seal
It looks like Apple's Vision Pro headset is only going to come in silver, despite rumors of multiple color options, but some level of customization will be available through the headset accessories.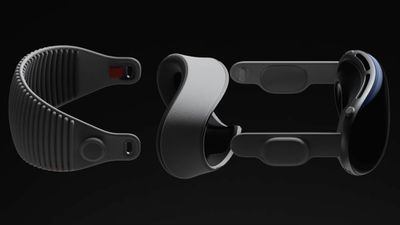 There is a "Light Seal" that attaches magnetically to the headset display, creating a tight fit between the device and the wearer's face in order to block out light, and there's also a headband that fits at the back of the head to hold the headset in place. Both are removable and can be replaced.
Apple plans to offer the Light Seal in a wide range of size and shape options. The magnets in the Light Seal adhere to the curved display, and it's important to have the right size. The Light Seal needs to fit firmly against the face to keep light out.
The headband snaps on to the Audio Straps that include speakers that provide spatial audio. Apple designed the headband from a flexible, 3D knitted material with a ribbed structure that is designed to be comfortable to wear. It is breathable while offering stretch, and a fit dial customizes the size to each individual's head.
Apple when introducing the Vision Pro said that the headband can be removed and exchanged for a different size, indicating headbands will also come with size options. Apple also said a "different kind of band" could be used, so there is an open possibility for Apple to make other Apple Vision bands in the future.
There are also opportunities for third-party manufacturers to create seal and band accessories for Apple Vision, and we've already seen some third-party band options. In the future, Apple Vision may work a lot like the Apple Watch, with a multitude of bands to choose from.