First Third-Party Headbands for Apple Vision Pro Offer Leather Finishes and Multiple Color Options
Apple Watch band and iPhone case maker BandWerk today unveiled a series of luxury leather headbands for Apple Vision Pro – the first third-party options of their kind for the device.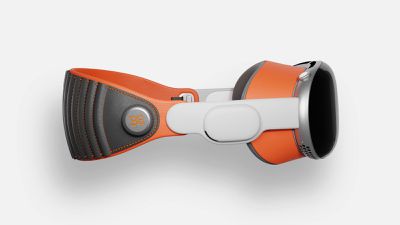 The headbands come in five different color options, including gray, brown and white, cream, beige and gray, and orange and gray. They will be made of Italian leather and crafted in Germany, accompanied by a colour-matching fabric Light Seal.

Apple will seemingly not offer Vision Pro in different color options, nor will the company offer multiple headbands, meaning that third-party accessories will be the only way to achieve a more unique look with the device.

The headbands currently only exist as a concept, but BandWerk says that it plans to offer the headbands in early 2024 when Vision Pro launches. BandWerk notes that the product is still in development, so minor design details may yet change before it goes on sale. BandWerk says that the leather headbands will retail for $159 in the United States and £129 in the United Kingdom.