Mercedes-Benz Preparing to Launch Digital Car Key Support for iPhone and Apple Watch in Latest E-Class Sedan
Apple's digital car key feature for iPhone and Apple Watch is expanding to Mercedes-Benz, with changes to Apple's back-end configuration files for the feature having been updated today with references to the automaker, as noticed by Nicolás Álvarez (via @aaronp613).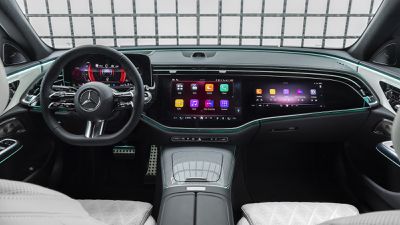 Only a handful of brands including BMW, BYD, Genesis, Hyundai, and Kia have so far introduced support for the feature on select models, which allows you to add a digital car key to the Wallet app on your ‌iPhone‌ and Apple Watch and then lock, unlock, and start your car without needing a physical key. Just a month ago, Lotus appeared in Apple's configuration files as another upcoming brand that will support the feature.
Mercedes-Benz announced last month that the new E-Class sedan will support the feature, which it refers to as Digital Vehicle Key, as part of its KEYLESS-GO Comfort Package. The E-Class digital key can be shared with up to 16 people, with the primary user able to assign certain rights to specific users such as only allowing access to the vehicle or also allowing it to be driven.
Depending on the technology adopted by a given manufacturer, you may need to hold your device in close proximity to the door handle or in-car reader, while other vehicles may support passive entry where the digital key will function as long as you have your device on you. Select vehicles may also support remote lock and unlock via the digital car key.