Apple Says CarPlay Now Available in Over 800 Vehicle Models as GM Plans to Phase Out Support in EVs
CarPlay is now available in more than 800 vehicle models sold in the U.S., according to a recently updated page on Apple's website. Until last week, the page said the in-car software platform was available in more than 600 vehicle models. Apple added many 2023 and 2024 vehicle models to the list as part of the update.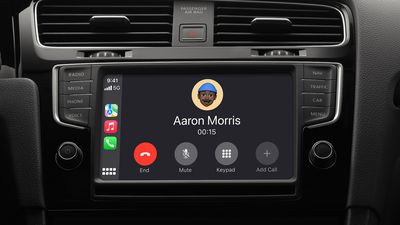 The updated figure comes after GM announced that it plans to phase out CarPlay in future electric vehicles in favor of its own in-car software platform, developed in partnership with Google. The decision led to backlash from some customers given the immense popularity of CarPlay, but GM doubled down on the plans in an interview with The Verge last week, saying it is building a "holistically integrated" operating system with a "much-improved navigation and charging experience for future EV owners."
At WWDC last year, Apple stated that 79% of U.S. buyers would only consider a vehicle that works with CarPlay, and said the platform is available in 98% of vehicles sold in the country. "It's a must-have feature when shopping for a new vehicle," touted Apple.
Apple plans to introduce the next generation of CarPlay later this year, promising support for multiple displays across the dashboard, instrument cluster integration, built-in climate controls, an FM radio app, widgets, increased personalization, and more. Apple said the first vehicles with support for the new CarPlay experience will be announced later this year, with over a dozen automakers committed to offering it.
In related news, code on Apple's servers suggests that British automaker Lotus is planning to support Apple's digital car key feature in the Wallet app, which would allow future vehicles to be unlocked, locked, and started with an iPhone or Apple Watch.