Kuo: Next Year's iPhone 16 Pro to Get Larger Screen and Periscope Lens
Both of next year's iPhone 16 Pro models will feature a periscope lens, in contrast to this year's iPhone 15 series in which only the iPhone 15 Pro Max will feature the telephoto camera technology, according to the latest update from Apple industry analyst Ming-Chi Kuo.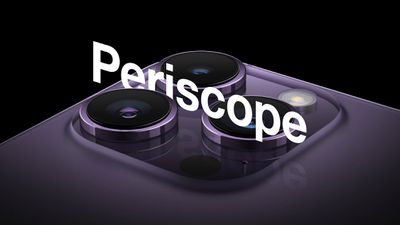 In a new memo posted on his Medium blog, Kuo suggested that the iPhone 16 Pro would be slightly bigger than previous Pro models, and that the "larger internal space" afforded by the new size was the reason why Apple would be able to bring the periscope lens to both premium devices for the first time.
Last week, oft-accurate display industry analyst Ross Young claimed that Apple will adopt new screen sizes for both the ‌iPhone 16‌ Pro and ‌iPhone 16‌ Pro Max models. The smaller ‌iPhone 16‌ Pro is expected to have a display size of 6.3 inches, while the ‌iPhone 16‌ Pro Max will have a display size of 6.9 inches.
The current iPhone 14 Pro has a display size of 6.1 inches and the ‌iPhone 14 Pro‌ Max has a display size of 6.7 inches. This year's iPhone 15 models are all expected to retain the same dimensions as those in the iPhone 14 series, so the step change from the 2023 to 2024 Pro models would be an approximate increase of 0.2 inches for both devices.
Long before rumors appeared about the new Pro sizes coming in 2024, Kuo predicted that both iPhone 16 Pro models would get the periscope camera, based on Apple's strategy of setting apart models by reserving certain higher-end hardware features for the most premium models, and then expanding technology to additional models the next year.
Kuo believes that for both iPhone 16 Pro models, Apple partner Cowell will be the supplier of the periscope camera system, in which light entering the telephoto lens is reflected by an angled mirror towards the camera's image sensor. The change in direction in which the light travels allows for a longer "folded" telephoto setup inside phones, enabling users to zoom in further without any blurriness or other reduction in quality.
The system is expected to add a 5-6x optical zoom to the iPhone 15 Pro (the current iPhone 14 Pro supports up to 3x optical zoom). Kuo did not specify whether the zoom range would be improved for the 2024 Pro and Pro Max models or if it would remain the same as the one expected to exclusively feature in this year's iPhone 15 Pro Max.