Google Announces Support for Account Passkeys
Google today announced that it is introducing support for passkeys, providing an easier and more secure login method for Google accounts. Apple integrated passkeys into iOS with the launch of iOS 16, and it is also available in iPadOS 16.1 and later as well as macOS Ventura.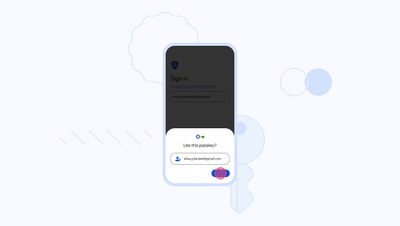 Passkeys are an industry standard developed by the FIDO Alliance and the World Wide Web Consortium, so Google's passkey integration will work on Apple devices as well as on other devices that support the feature. As Google notes:

Last year — alongside FIDO Alliance, Apple and Microsoft — we announced we would begin work to support passkeys on our platform as an easier and more secure alternative to passwords. And today, ahead of World Password Day, we've begun rolling out support for passkeys across Google Accounts on all major platforms. They'll be an additional option that people can use to sign in, alongside passwords, 2-Step Verification (2SV), etc.
Passkeys are both easier to use and more secure than passwords because they let users sign in to apps and sites the same way they unlock their devices: With a fingerprint, a face scan or a screen lock PIN. Passkeys are also resistant to online attacks like phishing, making them more secure than things like SMS one-time codes.
To create a passkey, Google users can log in to their Google account and then choose the "Create a passkey" option. Passkeys on iOS and Mac devices sync with iCloud Keychain for security purposes, and logins are authenticated with Face ID or Touch ID. This protects you from being locked out of your account in case you lose your devices, and makes it easier for you to upgrade from one device to another.
Google says the switch to passkeys will take time, which is why traditional passwords and two-step verification will still work for Google Accounts.
Google is just one of several companies to implement support for passkeys in recent months, with other supporting apps and websites including PayPal, Best Buy, eBay, Dashlane, and Kayak.