MacRumors 2023 Blood Drive
MacRumors is pleased to announce our Fourteenth Annual MacRumors Blood Drive, throughout the month of May 2023. Let's save lives together by encouraging donations of blood, platelets, and plasma. While most blood drives are specific to a geographic location, our blood drive is online and worldwide. Anyone can participate.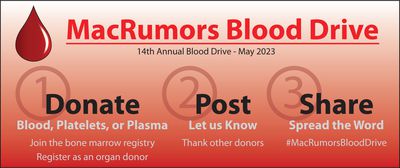 Over the past 13 years, MacRumors Blood Drives have recorded donations of 1193 units units of blood, platelets, and plasma, cheered for donors, and celebrated new signups for the organ donor and bone marrow registries. We've heard from first-time donors, from regular donors, and from those whose lives were saved by the donations of strangers.
This year's featured blood donor is user fwmireault, a regular blood donor and registered organ donor who last year participated in the MacRumors Blood Drive for the first time, and joined the bone marrow registry as well.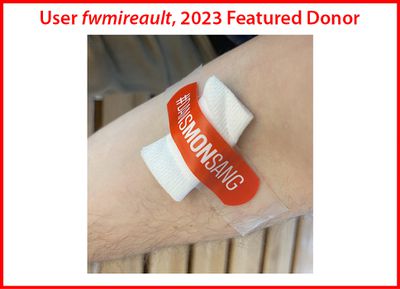 How to participate in the MacRumors Blood Drive​
If you are an eligible donor, schedule a blood, platelet, or plasma donation (see FAQ) at any donation center near you. Post in the MacRumors 2023 Blood Drive! thread to tell us about it. Also post if you register as an organ donor or register for the bone marrow registry (see FAQ). We'll add all donors and registrants to our Honor Roll.
If you aren't eligible to donate, please encourage someone else to make a donation, and let us know. If they donate, you'll both be added to our Honor Roll.
Share our message with friends, relatives, and followers. Thank the people who post in the MacRumors 2023 Blood Drive! thread.
After the MacRumors Blood Drive ends on May 31, record your future blood, platelet, and plasma donations on our Team MacRumors page (see instructions). We'll tally your donations and count them for the MacRumors 2024 Blood Drive next May.