Apple Releases Updates to Apple Music and TV Preview Apps for Windows
Apple has released updates for its Apple Music, Apple TV, and Apple Devices apps for PC users running Windows 11, bringing what appear to be notable improvements and bug fixes to the preview apps.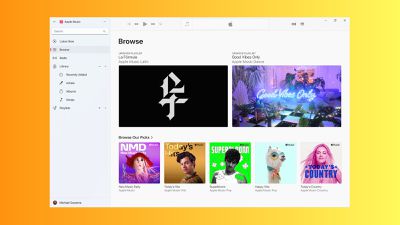 Last year, Microsoft said that Apple Music and Apple TV apps would be coming to the Microsoft Store in 2023 for installation on Windows devices, offering a better experience of ‌Apple Music and Apple TV+ than‌ going via the web or using Apple's outdated iTunes for Windows app.
In January, preview versions of the two apps, as well as an Apple Devices app for managing devices such as iPhones, iPads, and iPods from Windows machines appeared in the Microsoft Store. However, Apple warned that, as preview versions of these apps, "not all features may work as expected."
Apple has provided no release notes for the latest updates, so we don't have a comprehensive list of changes and fixes. However, users on Reddit have discovered that the Apple Music Preview app now appears to include support for Windows 11 media controls and keyboard shortcuts, support for lyrics, and provides smoother continuous playback of consecutive lossless tracks.
As for the Apple Devices Preview, Apple has reportedly removed mentions of the software that will run on its rumored mixed reality headset. References to "xrOS" and "RealityOS" references are now gone. Apple internally called the headset software "Reality OS" or "rOS" when it was in development, then decided to update the public name to the less generic "xrOS" name, which stands for "extended reality." Apple is expected to unveil its headset at WWDC in June.
There is no information yet on what's new in the Apple TV Preview app, but we will update this article when we learn more.
Note that installing any of these apps will prevent iTunes for Windows from opening. As a result, other content types such as audiobooks and podcasts will be inaccessible until Apple releases a compatible version of iTunes or the user uninstalls the preview apps.