Purdue Becomes Latest University to Launch Student IDs in Apple Wallet App
Purdue University today announced that students can now add their ID to the Apple Wallet and Google Wallet apps, allowing them to use their iPhone, Apple Watch, or Android smartphone to securely access campus buildings, purchase meals, and more.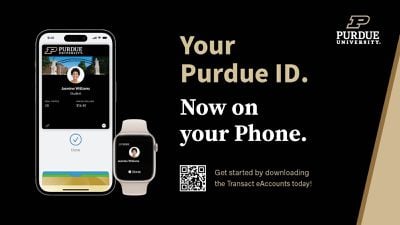 The digital ID is available in the Transact eAccounts app for undergraduate students on the West Lafayette, Indiana campus only, while graduate students, faculty, and other staff will continue to use physical ID cards, according to Purdue. The university said current students are still able to use their physical ID, or the digital version if they prefer, but incoming undergraduates will no longer be issued a plastic card starting this summer.
The digital ID can be used to access dorms, libraries, gyms, book stores, and other areas on and off campus, and to pay for meals and laundry around campus. Express Mode is turned on automatically for student IDs added to Apple Wallet, allowing students to simply hold their iPhone or Apple Watch near a card reader to gain access. If this mode is turned off, authenticating with Face ID, Touch ID, or a passcode is required.
Apple Wallet has supported student IDs since late 2018, and the technology is now available at dozens of colleges and universities across the U.S. and Canada. Purdue says it has around 50,000 students at its West Lafayette campus.