Spotify Downplays HomePod Support, But Promises to Add AirPlay 2 Yet Again
Spotify has yet to implement native support for the HomePod and HomePod mini, despite Apple opening up the speakers to third-party streaming music services in 2020. As a result, Spotify cannot be controlled with Siri on the HomePod.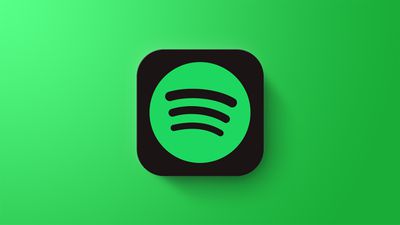 Bloomberg's Mark Gurman touched on the matter in his newsletter this weekend, noting that Spotify told him there hasn't been a "significant volume" of complaints about the lack of HomePod support. A post on Spotify's community website advocating for native HomePod support has over 5,800 votes in favor of the idea since it was submitted in 2020, but Spotify has refused to budge despite Apple making the necessary APIs available.
In 2019, Spotify accused Apple of anticompetitive behavior in a complaint filed in the EU. Alongside the complaint, Spotify launched a "Time to Play Fair" website that lists alleged examples of Apple's unfair practices, including preventing Spotify from natively supporting the HomePod. Yet nearly three years after Spotify has been able to support the HomePod without any further action from Apple, it has yet to follow through.
Spotify has also repeatedly promised to update its iPhone and iPad app with AirPlay 2 support, but it has failed to deliver so far. The app does support the original version of AirPlay, but has yet to adopt AirPlay 2, which launched in 2018 with enhancements such as less buffering and support for stereo-paired HomePods.
Spotify told Gurman that it "remains committed to supporting AirPlay 2 at some point in the future" and is "on a path towards making it happen eventually," but the company was unable to provide a definitive timeframe. Spotify has been promising to support AirPlay 2 since at least 2021, so subscribers have waited a long time.