Bespoke Apple Watch Ultra in Anodized Blue Sold by Arizona Jeweler
Specialist jeweler De Billas Lux has caused a stir among timepiece collectors by offering a custom Apple Watch Ultra model with an anodized blue titanium case.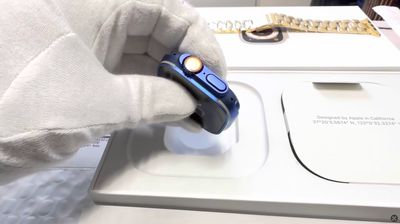 The Digital Crown is anodized in gold, and the Action button, while retaining an International Orange outline, has also been given an anodized blue finish. Inside the custom box is a gold-plated link bracelet to boot.
According to a video on its Watch Plating Pros YouTube channel, De Billas is able to create a range of unique colors for Apple Watch Ultra enthusiasts, however unfortunately it has not been able to achieve a black finish, which is one of its most requested colors.
Among its stall of prestigious brands like Rolex and Audemars Piguet, the Arizona-based jeweler is currently offering custom Apple Watch Ultra models for $1,499, with buyers paying an extra $700 on top of Apple's official $799 price for the ultra-premium finish.
Apple only offers the Apple Watch Ultra with a silver titanium finish, and there's no word on whether it will offer different finishes in a future update.
(Via iPhoneSoft.fr)