watchOS 9.4 Will Prevent You From Accidentally Silencing Your Apple Watch's Alarm While Sleeping
watchOS 9.4 includes a change that will prevent Apple Watch users from accidentally turning off their alarm while sleeping, according to Apple's release notes for the software update, which is in the final stages of beta testing.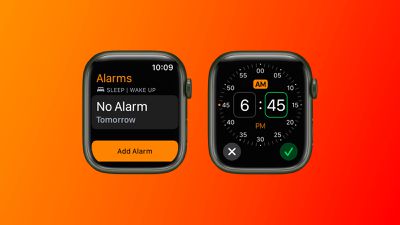 Specifically, Apple says that a wake-up alarm set in a Sleep Focus mode will no longer be silenced with the "Cover to Mute" gesture starting with watchOS 9.4. This means if the palm of your hand happens to cover your Apple Watch's display for three seconds while sleeping, the alarm will no longer be silenced unintentionally.
watchOS 9.4 is expected to be publicly released as soon as next week. The small but useful change was highlighted on Reddit earlier today.