Aqara Releases Video Doorbell G4 With Facial Recognition and HomeKit Secure Video Support
Smart home accessory maker Aqara today launched its first video doorbell, the HomeKit-enabled G4 with facial recognition.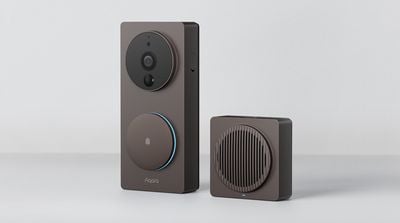 The Video Doorbell G4 features a 1080p camera and is compatible with ‌HomeKit Secure Video‌, along with support for local streaming to Amazon Alexa and Google Home smart devices.
It features on-device AI facial recognition, which can trigger customized automations for different people. For example, a "welcome home" scene is activated when the G4 recognizes a family member coming home. Or in the case that it detects the postman, the doorbell will play a pre-recorded message.
The battery-powered video doorbell supports both wireless and wired installation and can use a pack of six AA batteries that lasts about four months, according to Aqara. Alternatively, users can opt to wire the G4 doorbell to an AC/DC transformer for 24/7 recording, and use the battery pack as a back-up power source.
The doorbell also offers adjustable sensitivity, configurable motion detection, and a power saving mode for users who live in a high traffic area to extend the battery life. Additionally, the G4's chime repeater, which has a 95 dB speaker, includes a USB-C port, allowing users to place the repeater indoors.
Video footage can be stored locally or remotely via iCloud or the Aqara platform. The latter offers subscription-free cloud storage of up to seven days of critical event clips such as motion detection, facial recognition, doorbell ring, and tamper alerts.
Priced at $119.99, the Aqara Smart Video Doorbell G4 comes in both Shadow Gray and Black colors, with optional local storage via a microSD card slot. Support for the new Matter standard will come via a future over-the-air update, according to Aqara. The G4 is available on Amazon in both North America and Europe, as well as selective Aqara retailers worldwide.