Apple's HomePod With a Screen Delayed Until Next Year at the Earliest
Apple's project to design its first HomePod with a screen has been pushed back until next year at the earliest, as part of a series of cost-cutting measures and belt-tightening efforts to make its operations more efficient.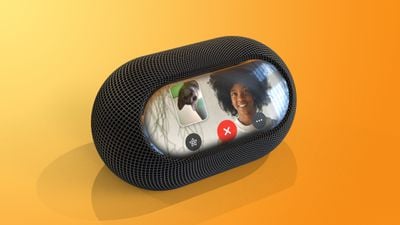 In his latest Power On newsletter, well-connected Bloomberg journalist Mark Gurman suggested that delaying the device will allow Apple to allocate its research and development budget to more pressing projects, like mixed reality headsets.
The move is part of a strategy to contain costs that should enable the company to maintain an appearance of stability in an unstable economy and avoid the swingeing cutbacks and layoffs that have befallen other tech companies including Meta, Amazon, Microsoft, and Google.
Other moves to avoid layoffs are said to include delaying bonuses for corporate teams, pausing hiring on some teams, reining in budgets, and leaving roles open rather than filling them when people leave their positions.
The revised timing for the rumored HomePod product tallies with Apple analyst Ming-Chi Kuo's recent prediction that a redesigned HomePod with a 7-inch display will arrive in the first half of 2024.
In 2021, Gurman was first to suggest that Apple is working on new HomePods with displays and cameras. In the long term, Apple is believed to be rethinking its smart home strategy and is reportedly working on a combined Apple TV and HomePod device, as well as a HomePod with a screen mounted on a robotic arm.