Apple's Rumored 5G Modem for iPhones Has Suppliers Competing for Orders
Apple's rumored 5G modem project has multiple suppliers interested in assisting with final assembly of the chip, according to a new report.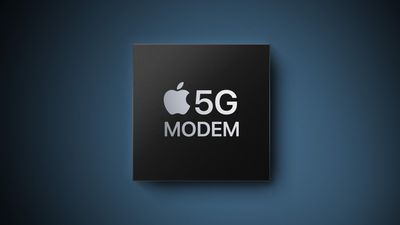 While the custom-designed modem will likely be manufactured by Apple's chipmaking partner TSMC, the final packaging stage may be handled by other suppliers. Taiwanese supply chain publication DigiTimes today reported that ASE Technology and Amkor Technology are "competing" to package the modem chips. The two companies already have experience packaging Qualcomm's modem chips, the report states.
Qualcomm is currently the exclusive supplier of 5G modems for Apple devices, including the entire iPhone 14 lineup, but Apple has long been rumored to be designing its own 5G chip as an in-house replacement. Last month, Qualcomm CEO Cristiano Amon said he expected Apple's 5G modem to be ready in 2024, but Bloomberg's Mark Gurman reported that it could take up to three years for Apple to fully transition away from Qualcomm.
The first device expected to be equipped with Apple's custom 5G modem is the fourth-generation iPhone SE, which will likely be released around March 2024. It's unclear how Apple's chip would perform compared to Qualcomm's modems, but the switch to an in-house design would likely reduce Apple's production costs over time.
In the meantime, all iPhone 15 models are expected to be equipped with Qualcomm's Snapdragon X70 modem, which has further cellular speed and power efficiency improvements compared to the Snapdragon X65 in all iPhone 14 models.