Qualcomm CEO Expects Apple's 5G Chip to Start Rolling Out Next Year
Speaking at the MWC 2023 conference today, Qualcomm CEO Cristiano Amon said Apple's rumored 5G chip could be ready next year.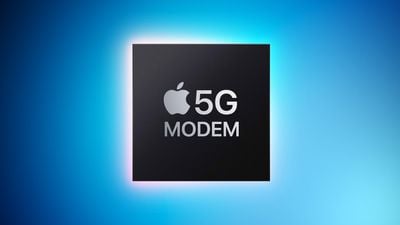 "We expect that Apple will do their own modem in 2024, but if they need ours they know where to find us," said Amon, in an interview with The Wall Street Journal's Joanna Stern. His comment was shared by tech analyst Carolina Milanesi.
Qualcomm is currently the exclusive supplier of 5G modems for Apple devices, including the entire iPhone 14 lineup, but Apple has long been rumored to be designing its own 5G chip as an in-house replacement. Bloomberg's Mark Gurman last month reported that Apple initially plans to use the chip in just one new product, such as a high-end iPhone model, and would fully phase out Qualcomm's modems about three years later.
Based on the 2024 timeframe that Amon provided, it's possible that Apple's 5G chip could debut in at least one iPhone 16 model. It's also possible that Apple could introduce the 5G chip in a lower-volume product first, such as an iPad. It's unclear how Apple's chip would perform compared to Qualcomm's modems, but the switch to an in-house design would likely reduce Apple's production costs over time.
In the meantime, all iPhone 15 models are expected to be equipped with Qualcomm's Snapdragon X70 modem, which has further cellular speed and power efficiency improvements compared to the Snapdragon X65 found in all iPhone 14 models. Qualcomm also recently announced its latest Snapdragon X75 modem, which could still be used in some of Apple's future devices amid the gradual transition to its own 5G chip.
Update: In a tweet today, analyst Ming-Chi Kuo said it is still undetermined if iPhone 16 models will be equipped with Apple's 5G chip. Kuo said the decision will depend on whether Apple can overcome technical challenges related to mmWave and satellite connectivity.