2024 OLED iPad Pros Set to Be a Lot Pricier Due to Costly Panel Production Process
Apple's upcoming OLED iPad Pro models are likely to be significantly more expensive than existing OLED devices of a similar size due to the costly new production processes involved, claims a new report out of Korea.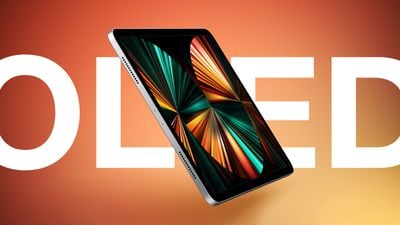 Apple is next year widely expected to launch new 11.1-inch and 13-inch iPad Pro models featuring OLED instead of LCD displays, and its panel procurement will account for the largest proportion of material costs, according to Korean-language website The Elec.
Apple is currently believed to be in discussion with Samsung and LG Display about the price of supplying the panels, the specifications for which will require the use of production processes that have not been combined before for OLED panels of the required size.
One of the new production processes is the use of a two-stack tandem structure, which has two emission layers, thus doubling brightness and quadrupling OLED display lifespan. All of Apple's iPhones use a single-stack structure, and Apple's rationale for requiring two-stack panels for iPads is that tablets tend to be used for longer periods.
Another process is the use of low-temperature polycrystalline oxide (LTPO) thin film transistors (TFT), for a more power efficient backplane that is responsible for turning individual pixels on and off, and lastly, a hybrid OLED structure that combines rigid OLED glass substrates with flexible OLED thin-film encapsulation, resulting in an overall thinner panel.
According to The Elec, the supply price of OLED panels for existing 10-inch devices is around $100 to $150, whereas the outlay for the processes involved in making Apple's required 11.1-inch and 13-inch panels is closer to $270 and $350, respectively.
As the report notes, Apple will likely pass on at least some of these material costs to the consumer, which will be reflected in significantly higher retail prices. Currently, the 11-inch ‌iPad Pro‌ with LED Liquid Retina display starts at $799, while the 12.9-inch ‌iPad Pro‌ with mini-LED Liquid Retina XDR display starts at $1,099.
Today's report adds that LG Display is developing both 11.1-inch and 13-inch iPad OLED panels, whereas Samsung is developing only for the 11.1-inch model, although Samsung may end up developing both types depending on production requirements.
In related developments, Samsung has reportedly decided to invest in eighth-generation OLED production lines, which should "theoretically" result in lower-costing panels compared to those made on the sixth-generation line. The ‌OLED ‌iPad‌ Pro‌ panels coming out next year are to be made using the sixth-generation line, but the panels for Apple's future OLED MacBooks are likely to be made by the eighth-generation line.