Apple Watch Risks US Import Ban After Biden Administration Upholds Patent Ruling
The Biden administration has declined to overrule a U.S. International Trade Commission decision that the Apple Watch infringes patents from medical device company AliveCor, potentially paving the way for an import ban on Apple's smartwatch depending on how the appeals process pans out.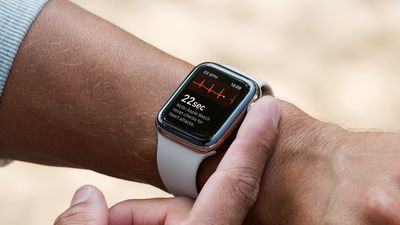 California-based AliveCor said in a statement that it was informed the Biden administration would not overrule a December decision from the ITC that found the Apple Watch infringed AliveCor health monitoring patents related to electrocardiogram technology. From AliveCor's press release:

"We applaud President Biden for upholding the ITC's ruling and holding Apple accountable for infringing the patents that underpin our industry-leading ECG technology," said Priya Abani, CEO of AliveCor. "This decision goes beyond AliveCor and sends a clear message to innovators that the U.S. will protect patents to build and scale new technologies that benefit consumers."
In the December ruling, the ITC recommended a limited exclusion order and a cease-and-desist order for Apple Watch models with ECG features. Were it to be enforced, Apple would no longer be able to import new Apple Watch models that support the ECG app. Apple plans to appeal the ITC's decision in a federal courthouse.
While the ITC decision could end up in an Apple Watch ban, the US Patent and Trademark Office in December also invalidated some of AliveCor's patents, which the medical tech company says it will appeal. At the time, Apple said the ITC's decision confirms that the patents AliveCor asserted in the ITC against Apple cannot be infringed.
AliveCor and Apple are embroiled in several legal battles, as AliveCor has also filed an antitrust lawsuit against Apple and Apple has sued AliveCor for patent infringement. Apple is also battling a patent infringement case brought by medical technology company Masimo, which asserts Apple Watch models that use light sensors to measure blood oxygen levels infringe its pulse oximeter patents.