Apple Watch Infringed Masimo's Pulse Oximetry Patent, US Judge Rules
Apple infringed on one of medical technology company Masimo's pulse oximeter patents when it launched Apple Watch models that use light sensors to measure the amount of oxygen in the blood, an International Trade Commission (ITC) judge ruled on Tuesday.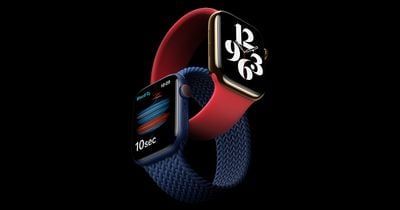 Masimo, which designs pulse oximetry devices, has been embroiled in an ongoing battle with Apple over several health capabilities found in some Apple Watch models, and Masimo has been pushing to have the models banned in the United States.
Medical grade pulse oximetry devices are what Masimo specializes in, and pulse oximetry is a feature that Apple added to the Apple Watch with the Series 6 model. The feature found in the Series 6 and later Apple Watch models uses light to detect the amount of oxygen in the blood, with the feature joining heart rate monitoring and ECG capabilities.
In June 2021, Masimo filed a patent infringement lawsuit with the ITC asking it to halt imports of the Apple Watch Series 6 because of patent infringements related to blood oxygen monitoring.
In Tuesday's ruling, the judge concluded that four other patents at issue were not infringed. The ITC will now consider whether to implement an import ban on Apple Watch models that include the blood oxygen monitoring feature, according to the medical device maker. The final determination is expected to be completed by May 10.

"We are happy that the judge recognized Apple's infringement of Masimo's pulse oximetry technology and took this critical first step toward accountability," said Masimo CEO Joe Kiani in a statement given to MD+DI. "Today's decision should help restore fairness in the market. Apple has similarly infringed on other companies' technologies, and we believe today's ruling exposes Apple as a company that takes other companies' innovations and repackages them."
"We respectfully disagree with today's decision, and look forward to a full review by the Commission," Apple said in a statement reported by Reuters.
Masimo initially sued Apple in January 2020, accusing the company of stealing trade secrets and improperly using Masimo inventions. In the prior filing, Masimo claimed that Apple sneakily poached Masimo employees and used patented Masimo technology when developing the sensors used in the Apple Watch.