New iMac Not Expected to Launch Until Late 2023 at Earliest
Apple has no plans to launch a new 24-inch iMac until late 2023 at the earliest, according to Bloomberg's Mark Gurman. In his newsletter today, he reiterated his expectation that Apple will skip updating the iMac with the M2 chip and instead wait to release a model with the M3 chip, which has yet to be announced.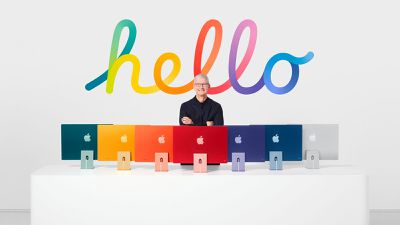 "I haven't seen anything to indicate there will be a new iMac until the M3 chip generation, which won't arrive until the tail end of this year at the earliest or next year," wrote Gurman. "So if you want to stick with the iMac, you'll just have to sit tight."
Apple's M3 chip is expected to be manufactured based on TSMC's latest 3nm process, providing additional performance and power efficiency improvements. The M3 chip is also expected to be used in a new MacBook Air rumored to launch by the second half of 2023, and potentially in future versions of the 13-inch MacBook Pro and Mac mini. By comparison, the M2 chip is built on TSMC's second-generation 5nm process.
Apple last updated the iMac in April 2021 with the M1 chip and a new ultra-thin design available in seven colors, including green, yellow, orange, pink, purple, blue, and silver. It is currently the only iMac available new, as the Intel-based 27-inch iMac and iMac Pro were both discontinued within the past two years. Gurman has previously claimed that a larger iMac could return, but he did not share any new info about that possibility today.