New MacBook Pro Features Smaller Heatsink Due to Supply Chain Issues
The M2 Pro and ‌M2‌ Max MacBook Pro models feature a considerably smaller heatsink due to supply chain issues, teardowns suggest.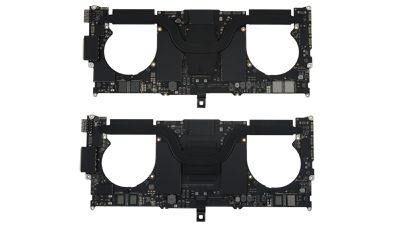 Top: M1 Pro logic board with larger heatsink. Bottom: ‌M2‌ Pro logic board with smaller heatsink (via iFixit).
The new MacBook Pro's revised thermal architecture appears to be caused by the reduced overall footprint of the ‌M2‌ Pro and ‌M2‌ Max SoCs inside the device, as noted by
iFixit
and
Max Tech
. The ‌M1 Pro‌ and
M1 Max
MacBook Pro models contained two, large memory modules, but the ‌M2‌ Pro and ‌M2‌ Max MacBook Pro models contain four slimmer memory modules. Even though the ‌M2‌ Pro and ‌M2‌ Max dies are physically larger than those of the ‌M1 Pro‌ and ‌M1 Max‌, the SoCs as a whole take up less space.

Left: ‌M1 Pro‌ SoC. Right: ‌M2‌ Pro SoC (via iFixit).
This means that the ‌M2‌ Pro and ‌M2‌ Max MacBook Pro models do not require a heatsink as large as the one used for the previous generation. It is not clear if this significantly impacts thermal efficiency.
The reason for the use of four smaller memory modules appears to be supply chain issues. The entire SoC is mounted on a substrate, so four smaller modules allow Apple to use a smaller substrate, making a saving on materials and reducing complexity as a result. Dylan Patel, Chief Analyst at SemiAnalysis, told iFixit:
ABF substrates were in very short supply when Apple made the design choice. By using four smaller modules rather than two larger ones, they can decrease routing complexity within the substrate from the memory to the SoC, leading to fewer layers on the substrate. This allows them to stretch the limited substrate supply further.
The ‌M2‌ Pro and ‌M2‌ Max deliver up to 20 percent better CPU performance and 30 percent better GPU performance than their predecessors, but since the chips continue to be based on TSMC's 5nm process, some users have noted that Apple may have made thermal tradeoffs in order to deliver improved performance.