iPhone 14 Crash Detection Alerts Police Minutes After Early Morning Tasmania Accident
The Crash Detection feature in the iPhone 14 was able to alert police immediately after an early morning accident occurred in Tasmania, getting help for victims within minutes.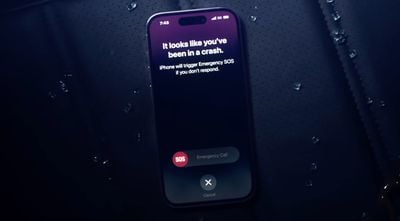 According to Australia's ABC News, a four-wheel drive truck towing a horse float collided with a tree stump in Tasmania at 1:45 a.m. on Monday. Crash Detection alerted nearby police, who were able to get to the scene within eight minutes, even though the passengers were unconscious.
Five people ranging in age from 14 to 20 were taken to the hospital, and one person with serious injuries was transported to Melbourne by air ambulance. In accidents with life-threatening injuries, immediate help can make a major difference. "In a case where people had lost consciousness in a crash like this, it is certainly something that alerts police quickly," said Tasmania Police Inspector Ruth Orr. Officers had also already been in the area, which helped with the response time.
Apple's ‌iPhone 14‌ models have only been out for four months, but the Crash Detection feature has already helped multiple accident victims, as has the Emergency SOS via Satellite function that can contact police in emergency situations where WiFi and cellular service are unavailable.
Unfortunately, Crash Detection can also trigger false positives, which can be frustrating for emergency responders around amusement parks and ski resorts. In November, Summit County dispatchers in Utah said they had seen a major uptick in accidental 911 calls, and just this week, a report from The Japan News said that the Kita-Alps Nagano Fire Department had received a total of 134 false calls primarily triggered by Crash Detection, with those calls occurring between December 16 and January 23.
Japanese firefighters do not recommend turning off Crash Detection, despite the inconvenience. "It's an effective function in the event of a really serious accident, so we can't ask users to turn it off," they said.
Apple has already adjusted Crash Detection, optimizing it with the iOS 16.1.2 update to cut down on false positives, but reports in December suggested that 911 dispatchers were still getting a number of accidental calls. Utah Summit County Sheriff Jamie FitzSimons said in December that Apple is aware of the problem, and that more refinement is needed. "We are communicating with Apple to get them to pay more attention to this, but it feels like we are trying to turn a battleship in a bathtub," said FitzSimons.