Apple Music 'Replay 2023' Playlist Now Available
Apple Music subscribers can now listen to their "Replay 2023" playlist as of today. As in previous years, this playlist ranks all of the music you've been listening to on Apple Music from 1 to 100, updating weekly so you can keep track of your most-streamed songs of the year as 2023 progresses.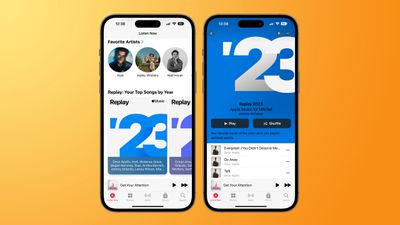 "Replay 2023" will update every Sunday with the newest order of your favorite music on Apple Music. By the time December rolls around, you'll have an overall list of your 100 favorite songs on Apple Music saved in the playlist.
Once you've listened to enough music to generate the playlist, you'll find it at the bottom of the Listen Now tab in ‌Apple Music‌ on iOS, iPadOS, and macOS. There's also a more detailed version of the data tracking feature on Apple Music for the web, including most streamed artists and albums, and statistics for detailed play counts and hours listened.
Apple has been making its yearly Replay playlists available since 2019. Spotify Wrapped has been dominating this area of the music streaming business for a few years now, mainly thanks to its easily shareable infographics that come out in early December. In addition to Replay playlists, last year Apple introduced a "Highlight Reel" feature with more statistics about each users' listening history at the end of the year.
Head to the ‌‌Apple Music‌‌ app or Apple Music on the web to add the Replay 2023 playlist to your library. If you haven't listened to enough music yet in 2023, the playlist may not appear in your ‌Apple Music‌ app. Once you do listen to more music, you should see your Replay 2023 playlist appear as usual in the Listen Now tab.