iPad Pro With OLED Display Again Rumored for Launch Next Year
Apple is continuing development of OLED panels for new iPad Pro and MacBook Pro models to be announced in 2024 and 2026, respectively, according to a report from Korea's ET News.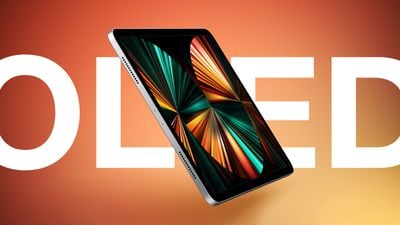 The report states that Apple and one of its Korean display suppliers, believed to be Samsung, have started working on OLED panels for an 11-inch and 12.9-inch iPad Pro and a 14-inch and 16-inch MacBook Pro. In line with previous rumors, the report states that the first iPad with an OLED display will launch in 2024. From the report:
The specific types of panels are 10.86 inches and 12.9 inches for the iPad, and 14 inches and 16 inches for the MacBook. The domestic display companies and related parts and material companies began to develop the panels with the start of the official project. An insider familiar with the subject said, "Panel development from 10 inches to 16 inches is in progress."
According to display analyst Ross Young, who has accurately revealed details about several Apple devices ahead of launch, the first iPad Pro with OLED panels will have larger 11.1-inch and 13-inch displays compared to the current-generation models.
Apple currently uses a mini-LED display in its 12.9-inch iPad Pro, while the smaller 11-inch model keeps a traditional LCD panel. Following the iPad's transition to OLED, rumors suggest the first Mac with an OLED panel will arrive in the form of a 13-inch MacBook Air as soon as 2024.
Compared to traditional LCD panels, OLED displays require less power thanks to their self-emitting pixels, which do not require backlighting, ultimately extending battery life, providing darker blacks, and improving contrast ratio. Apple currently uses displays from display partners, including Samsung and LG, but it is reportedly looking to reduce its dependence on those suppliers.
A report from Bloomberg this month said Apple is working on custom-designed displays to use in the iPhone and Apple Watch starting next year. The report claimed the first device with a custom Apple-designed microLED display will be the Apple Watch Ultra at the end of 2024. Apple will reportedly expand its custom-made microLED display to other products in the following years, including the iPhone, iPad, and Mac.