New HomePod Can't Be Stereo Paired With First-Generation HomePod
Following Apple's new full-size HomePod announcement, many owners of the original HomePod are wondering if it's possible to pair the new ‌HomePod‌ with the first-generation smart speaker of the same name. The short answer is no.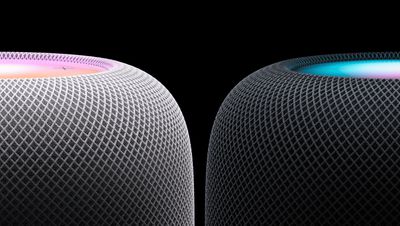 Creating a stereo pair with the new ‌HomePod‌ requires another second-generation ‌HomePod‌. In the footnotes from Apple's press release:

Creating a HomePod stereo pair requires two of the same model HomePod speakers, such as two HomePod mini, two HomePod (2nd generation), or two HomePod (1st generation).
That's not to say the two devices can't be used together at all. If you have a new ‌HomePod‌ and first-generation ‌‌HomePod‌ in the home, they can be used to play your music in different rooms, and features like Intercom will work across both devices.
In another notable development, a software update appears to be on the way for the HomePod mini that will add two key features currently exclusive to the new ‌HomePod‌ – temperature and humidity sensing in indoor environments.
The new ‌‌HomePod‌ ‌costs $299 and is available in both white and midnight color options. In-store availability and deliveries to customers will begin Friday, February 3 in select countries.