New HomePod and HomePod Mini Now Feature Temperature and Humidity Sensing [Updated]
The reintroduced HomePod offers a temperature and humidity sensor, but Apple is also enabling the feature on the existing HomePod mini.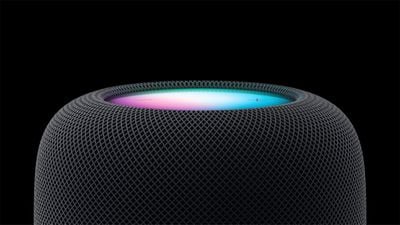 The ‌HomePod‌'s built-in temperature and humidity sensor can measure indoor environments, allowing users to create automations that close the blinds or turn on a fan or heater automatically when a certain temperature is reached in a room, for example. This information is exposed in the Home app like any other smart home accessory.
As highlighted in the comparison section of the HomePod webpage, the ‌HomePod mini‌ also now offers this functionality. It appears that rather than being a new version of the ‌HomePod mini‌, this is a retroactively activated feature, with the temperature and humidity sensor already existing inside all ‌HomePod mini‌ models since launch.
In 2021, Bloomberg's Mark Gurman said that the ‌HomePod mini‌ includes a dormant temperature and humidity sensor – a finding also confirmed by iFixit. It seems that the component is now finally being activated, presumably via a future software update.
Apple notes that the ‌HomePod‌'s temperature and humidity sensing is optimized for indoor, domestic settings with ambient temperatures between 15ºC and 30ºC and relative humidity around 30 to 70 percent.
The sensor's accuracy may decrease in some situations where audio is playing for an extended period of time at high volume levels, likely due to generation of heat from the device itself. The ‌HomePod‌ also apparently requires some time to calibrate the sensors immediately after starting up before results are displayed.
Update: ‌HomePod‌ software version 16.3 enables the temperature and humidity sensor in the ‌HomePod mini‌, according to Apple's release notes.