Nvidia Launches GeForce NOW 'Ultimate' Tier With RTX 4080 GPU for Cloud Gaming at 240 Frames Per Second
Nvidia today announced the launch of a new "Ultimate" tier for the GeForce NOW cloud gaming service, providing up to 240 fps gaming with servers powered by the GeForce RTX 4080.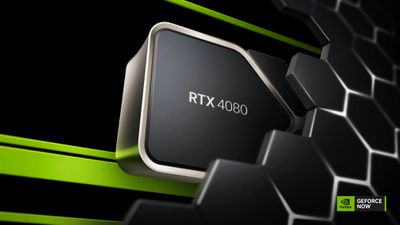 The Ultimate tier is priced at $20 per month (or $100 for six months), the same price as the prior plan that allowed gamers to access the GeForce RTX 3080. Full ray tracing and DLSS 3 frame multiplying technology will be available, and Nvidia is introducing Reflex support for reduced latency for those who have a G Sync display. With Nvidia Reflex, GeForce NOW can provide click-to-pixel latency below 40 milliseconds.
Nvidia says that the GeForce NOW RTX 4080 SuperPODs will provide more than 64 teraflops of graphics horsepower to an individual user, which is 5x more than the Xbox Series X. Nvidia is introducing support for ultrawide resolutions, allowing 4K display owners to play games at up to 120 frames per second. GeForce Now users who subscribed to the RTX 3080 tier will be migrated to the Ultimate tier automatically in the first quarter of 2023.
The GeForce RTX 4080 is one of the most powerful GPUs available for purchase, but the $1,200 price makes it inaccessible for many. The GeForce NOW streaming service will allow those who are willing to pay the monthly access fee to play games using servers equipped with the GPU. GeForce NOW includes more than 1,500 game titles, and it is available on Apple's Macs.