Apple Erroneously Sending iTunes Connect Email to Users
Apple is erroneously sending emails to users asking them to update their iTunes Connect banking information, but the users receiving the emails often have no content being distributed via the service.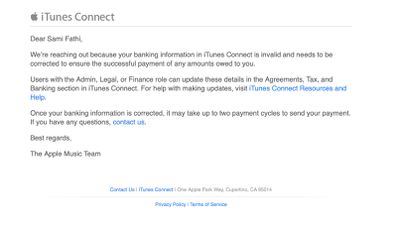 Users have flocked to Twitter to share their confusion over the email, which reads, "we're reaching out because your banking information in iTunes Connect is invalid and needs to be corrected to ensure the successful payment of any amounts owed to you."
For many users, the email is signed by the Apple Music Team, which would imply those receiving the email are artists with content on ‌Apple Music‌. For reference, iTunes Connect is what producers, artists, writers, and more use to distribute their content across Apple's platforms.
"Once your banking information is corrected, it may take up to two payment cycles to send your payment. If you have any questions, contact us," the email continues. For users who do not use iTunes Connect, it's probably safe to simply ignore the email.