Apple Shares Charging Details for New Dual USB-C Power Adapters
Following yesterday's launch of orders for the two new 35-watt dual USB-C power adapters introduced at WWDC, Apple has posted a new support document outlining how power is split when devices are connected to both ports.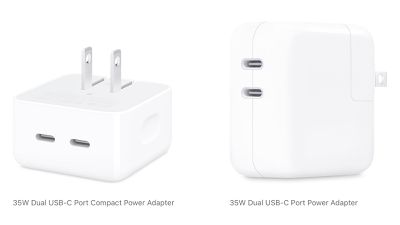 Under most scenarios, the 35 total watts will be split evenly between the two connected devices, with the exception being when one of the devices has relatively low power requirements, such as an Apple Watch or AirPods case.

If you connect an ‌iPhone‌ and an ‌iPad‌, each device receives up to 17.5W.
If you connect a Mac notebook or ‌iPhone‌ and an Apple Watch or AirPods, the Mac notebook or ‌iPhone‌ receives up to 27.5W and the Apple Watch or AirPods receive up to 7.5W.
The standard version of the dual USB-C adapter is available worldwide and has a removable plug head for compatibility with international plug heads and extension cables. The compact version is only available in the U.S., Canada, China, Japan, Mexico, and a few other countries that use the Type A plug style. Both versions are priced at $59 in the United States, and the new adapters will ship with higher configurations of the new MacBook Air launching next month.