Sierra Blue iPhone 13 Pro Differs From All Other Models in Hidden Way
Sierra Blue is Apple's new color with the iPhone 13 Pro and ‌iPhone 13‌ Pro Max, and it has now emerged that the Sierra Blue ‌iPhone 13‌ Pro differs from all other iPhone models in a way that may not be immediately obvious.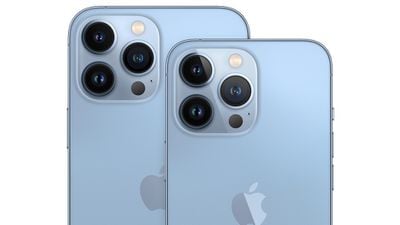 Sierra Blue is the first "Pro" ‌iPhone‌ color option to use a lighter shade that is still saturated with color. Previous models have offered Midnight Green and Pacific Blue, which were dark tones, much more akin to the ‌iPhone 13‌ Pro's Graphite and Gold shades. The first real-world images of the ‌iPhone 13‌ Pro in Sierra Blue revealed a very unique metallic, almost icy look.

All of the Pro model iPhones achieve their highly polished finishes using a physical vapor deposition process that Apple first introduced last year on the ‌iPhone‌ 12 Pro, but Apple has now confirmed that Sierra Blue differs from all previous ‌iPhone‌ colors due to a manufacturing process that could explain why the company was able to offer a lighter blue to replace last year's Pacific Blue. Apple's press release for the ‌iPhone 13‌ Pro and ‌iPhone 13‌ Pro Max explained (emphasis our own):
The all-new Pro lineup features a premium flat-edge design, crafted with exceptional materials, including the surgical-grade stainless steel band, with an elegant finish that is resistant to abrasion and corrosion, and a textured matte glass back. Both models are available in four striking colors including the all-new sierra blue, created using multiple layers of nanometer-scale metallic ceramics applied across the surface for a stunning and durable finish.
Graphite, Gold, and Silver all make their return on the ‌iPhone 13‌ Pro lineup, but Sierra Blue is a distinctive and eye-catching new color. With Sierra Blue being the only new shade to come to the Pro lineup of iPhones this year, some customers may be eager to get the new color due to it being instantly recognizable as the latest model. The knowledge that Sierra Blue is different at the nanometer scale may also serve as an interesting tidbit when selecting the color option.