Users Despair at Apple Podcasts App After iOS 14.5 Update
In spite of redesigning its Podcasts app with iOS 14.5, long-standing bugs within the app persist, and hundreds of reports from users across Twitter and Reddit are complaining about a range of new usability problems.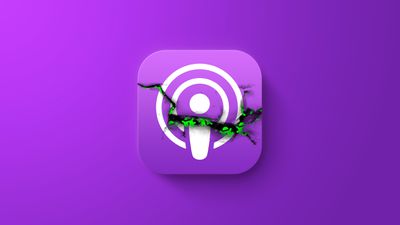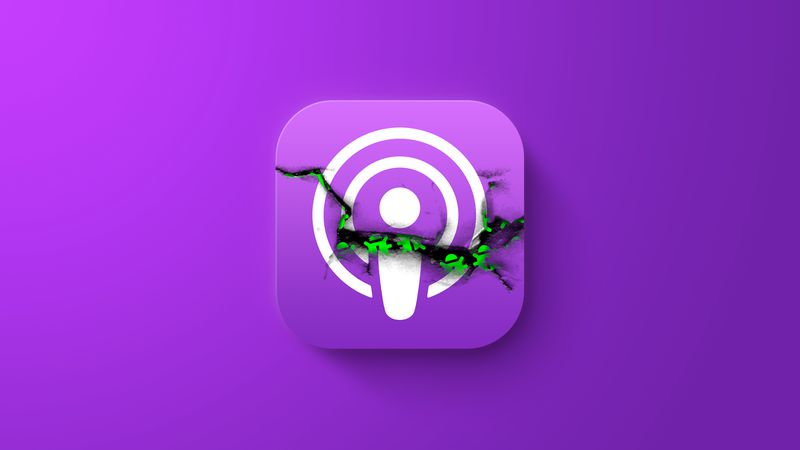 Apple's iOS 14.5 update, accompanied by iPadOS 14.5 and macOS Big Sur 11.3 brought a major overhaul of the Podcasts app, including a new design, a re-thought system of "following" shows instead of "subscribing," a new centralized location to change new episode notifications, in-app paid podcast subscriptions for the first time, and more.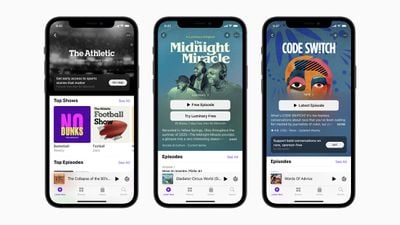 Apple's Podcasts app has been infamous among some podcast enthusiasts for its range of long-standing bugs and purported unreliability. Such bugs have included skipping playback, inaccurate timestamps, skewed UI elements, and unresponsive scrolling.
One of the most bemoaned aspects of Apple's Podcasts app has been its issues with syncing, where users have found that the app fails to sync episodes added to a library, individual podcast settings, and listened to episodes across devices.
Such problems have supported the rise of some third-party podcast apps such as Overcast, Pocketcasts, and other apps without these repetitious bugs.
Some users hoped that the overhaul of Podcasts in iOS 14.5 would put an end to these long-suffered problems, but the updated app introduces design changes that have irked some users, in addition to the previous bugs that have not been resolved.
The biggest change that has aroused users' ire is related to Apple's re-thought system of following Podcasts, which has replaced subscribing and adding episodes to the library.
With Apple Podcasts on iOS 14.5, all episodes of a show are now displayed by default, bringing Podcasts in line with Apple's other content services, which gives the appearance of hundreds of episodes stretching back years being added to the library.
Some users are reporting that having hundreds of old episodes added to their device is also using massive amounts of mobile data.
It is no longer possible to delete or remove individual episodes from the library, leaving users with the only option of selecting "Hide Played Episodes" and then manually marking every unwanted episode as played individually, one by one.
Users will have to continue marking every episode of a podcast that they do not want to listen to as played in order to remove it from view. This is especially troublesome when listening to podcast episodes in "oldest to newest" order.
Apple has changed the way that the Podcasts library works in iOS 14.5. The "library" side of podcasts that users now see is effectively the direct view of feeds, with all episodes on display, rather than what they have chosen to add, remove, or subscribe to based on rules. Since Apple has changed the library in this way in iOS 14.5, removing the ability to delete or remove episodes, there is even greater level of confusion among users about how to remove or delete the hundreds of newly-appeared episodes.
Some users have criticized the change as a significant oversight because most listeners do not want every unplayed episode of every podcast they follow in their library.
The new system is fine for listening to podcasts like watching a TV show, with podcasts such as Apple's "The Line," where users need to start from the first-ever episode and listen in chronological order, never skipping an episode. But for many types of podcasts, such as news podcasts, where it is pointless to listen to older episodes and users may want to sometimes skip an episode, it is actively obstructive.
While some users have misconstrued these design changes as bugs, separate issues such as a bug preventing episode limits from working correctly have only exacerbated complaints.
Other, more simple design changes in iOS 14.5's Podcasts app have also met the wrath of users. Apple has removed the "recently updated" tab and the ability to see how many unplayed episodes there are per show. Podcasts are also now sorted by the order in which they were originally followed by default, even though it is possible to sort by recently updated within the Shows tab.
Yet there are also reportedly a number of newly-reported defects that join the pre-existing spate of bugs, such as crashing and long library load times.
Some users are reporting that their custom Podcast Stations are now virtually defunct, with Stations failing to aggregate the selected episodes correctly, while others are reporting an inability to find unplayed episodes in the new design and problems loading new episodes.
These complaints about the new design and reports of new bugs come alongside many of the pre-existing problems with marking as played and syncing.
There are countless complaints about the new Podcasts app on various social media platforms and MacRumors editors have also been subjected to many of the same problems that are being reported.
The best thing that users affected by the issues in the Podcasts app can do is share feedback with Apple or report a concern directly in the Podcasts app itself.