New Images of Rumored 'iPhone 12' Braided Lightning to USB-C Cable Emerge [Update: Black Cable Likely From Mac Pro or Future iMac Pro]
According to leaks, Apple's upcoming iPhone 12 models could ship with a new Lightning to USB-C cable that includes a braided fabric design, and today serial leaker L0vetodream has shared more images of the purported new design, alongside a similar cable in black.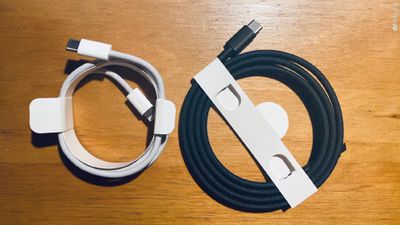 The photos depict a USB-C to Lightning cable that has a braided design rather than the standard non-fabric design of the current cables. Apple has never released a cable with a braided design for its iPhones or iPads, but it does offer a braided Thunderbolt Pro cable, a black braided Lightning cable that ships with the Mac Pro, and a braided power cable for the HomePod.


Braided cable designs have the potential to be more durable than standard rubber-coated cables, but typically extra reinforcement is included at the end points where the cable heads are positioned, which isn't seen here on the white cable. The cables look similar to existing Apple-designed Lightning to USB-C cables with the exception of the new gray and white braided look on the white.


Apple in 2019 included a USB-C to Lightning cable with the higher-end Pro ‌iPhone‌ models to go along with a USB-C power adapter, while the more affordable ‌iPhone‌ 11 came with a standard USB-A to Lightning cable. That's led to speculation that the braided cables could be exclusive to the higher end ‌iPhone‌ 12 models.
Apple is expected to release four iPhones this fall, including one 5.4-inch model, two 6.1-inch models, and one 6.7-inch model. Rumors suggest the 6.7-inch ‌iPhone‌ and one 6.1-inch model will be higher-end devices with triple-lens cameras, while the 5.4 and 6.1-inch models will be lower-end iPhones with dual-lens cameras and a more affordable price tag.
Apple's new braided USB-C to Lightning cable may be the only accessory that ships with its 2020 iPhones. Multiple rumors have suggested the ‌‌iPhone‌ 12‌ models will not come with a power adapter or EarPods in the box, allowing Apple to save money and cut down on packaging.
Instead, Apple may sell a new 20W power adapter on a standalone basis. This would allow customers to purchase a power adapter separately from Apple or from a third-party manufacturer, and could bring Apple in line with EU proposals for a common charging standard.
Update: In a followup tweet, L0vetodream claims that the black braided Lightning cable shown is "from the iMac Pro," suggesting it's an updated version of the black Lightning to USB-A cable that comes with existing ‌iMac‌ Pro models. Currently only the ‌Mac Pro‌ comes with a black Lightning to USB-C cable, so it's possible L0vetodream simply mistyped his tweet and that is actually what's pictured.