Photos shared on Twitter show the final stages of construction work on what will become Apple's second retail store in Bangkok, Thailand.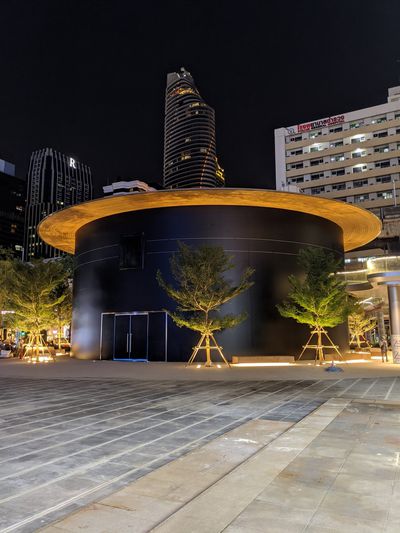 The location is in front of the Central World mall. The area, which now features a white stone courtyard, was closed to the public long before Bangkok's first Apple store, Apple Iconsiam, officially opened in November 2018.
Over the past year, a temporary wall has kept the very large cylindrical construction site shrouded in mystery, but that has recently been removed and now only a temporary black covering conceals the building's glass walls, housed under a giant flat circular roof.


Outwardly, the store design is reminiscent of Steve Jobs Theater at Apple Park in California. Leaked architectural plans also appear to reveal the store's interior layout.
The plans show a ground floor with the familiar sequoia wood product tables arranged in a ring around the shop floor and shelves for displaying products along the walls.


At the center of the store is a winding staircase to the second floor, which includes a large video screen indicating the Forum area and tables with seats for Today at Apple sessions and possibly Genius appointments. There is also a basement, which was formerly the parking lot of Central World.


Lights have been seen emanating from behind the black covering, suggesting that lighting has been installed and interior decoration is almost complete.


Given the how long it has been in development and the progress made so far, it looks like the store could open very soon. Once completed, it could well become the largest Apple Store in Southeast Asia, overtaking even Apple Orchard Road in Singapore.
(Thanks, Artit!)