Microsoft Office App Released for iPhone, Combines Word, Excel, and PowerPoint
Following beta testing, Microsoft today released its new Office app for iPhone, bringing together Word, Excel, and PowerPoint in a single app.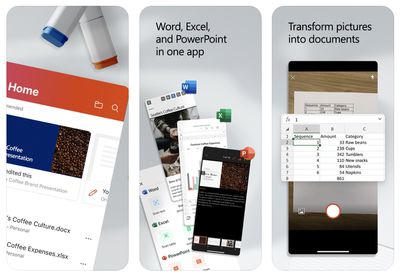 The main benefit of the unified Office app is that it requires only a single download with a much smaller file size, but it does have a few unique features, including camera integration for easily converting photos of documents and tables into Word and Excel files. The app also has a new Actions pane that supports a number of common tasks like signing PDFs and scanning QR codes.
Microsoft explains some of the benefits of the new Office app in a blog post:
The Office app delivers several key benefits including:

- Combining Word, Excel, and PowerPoint in a way that simplifies the experience with fewer apps to download or switch between. It requires far less phone storage than installing individual apps while maintaining virtually all the capabilities of the existing mobile apps people already know and use.

- Integrating our Lens technology to unlock the power of the camera with capabilities like converting images into editable Word and Excel documents, scanning PDFs, and capturing whiteboards with automatic digital enhancements to make the content easier to read.

- Adding new functionality for common tasks people often encounter when working on a phone—things like making quick notes, signing PDFs, scanning QR codes, and transferring files between devices.
The new Microsoft Office app is available on the App Store for the iPhone and on the Google Play Store for Android. Microsoft says the app will be optimized to support the iPad soon. The app is free to use, even without signing in, but an Office 365 subscription starting at $6.99 per month is required to unlock premium features.
Microsoft's standalone Word, Excel, and PowerPoint apps remain available and were
recently updated with a simplified three-tab layout
.
(Thanks, Michaël!)