Apple Begins Selling OtterBox's Stackable Wireless Charging System and Other Latest Accessories
Apple today added a variety of charging solutions and other products to its online store from brands such as OtterBox, Mophie, Belkin, Ubio Labs, Native Union, STM, and Promise Technology.
OtterBox's stackable wireless charging system OtterSpot includes a base that can charge up to three disc-shaped 5,000 mAh batteries and an iPhone, AirPods case, or other device on the top simultaneously. The idea is that you can quickly pick up one of the batteries from the stack and charge any Qi-enabled device on the go.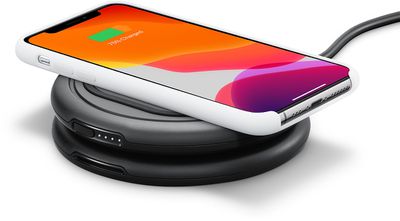 Introduced in August 2019, the OtterSpot system comes with a 36W USB-C power adapter and offers fast charging up to 10 watts. The base and one battery are available as a combo for $129.95, or the base and standalone batteries can be purchased separately for $69.95 each.
Available exclusively at Apple is Mophie's latest Powerstation Plus XL battery pack with an 8,000 mAh capacity for $99.95, as well as braided USB-C to Mini DisplayPort and USB-C to Micro-B cables.


6,000 mAh and 10,000 mAh battery packs from Ubio Labs are also available for $59.95 and $79.95, respectively.
Apple has added two BOOST↑CHARGE power adapters from Belkin, including one with a single 18W USB-C port for $39.95 and one with dual 18W USB-C and 12W USB-A ports for $44.95 for charging devices like iPhones and iPads. Each power adapter includes a Lightning to USB-C cable in the box.
Three more RAID storage systems are available from Promise Technology, including R4/16TB, R6/24TB, and R8/32TB options.


Last, there are new cases from Native Union and STM for the 10.2-inch iPad.