Apple Arcade Now Available With $49.99/Year Subscription Option
Apple Arcade is now available with an annual subscription option, priced at $49.99 per year in the United States, $59.99 per year in Canada, £49.99 per year in the UK, and €49.99 per year in many other European countries.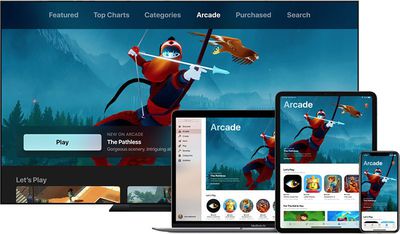 Until now, Apple Arcade was only available with a $4.99 per month subscription in the United States, totaling $59.88 in a year. In other words, the annual subscription effectively provides 12 months of Apple Arcade access for the price of 10 months in return for paying upfront — a savings of $9.89.
To switch to the annual subscription plan on an iOS device, open the App Store, tap on your profile photo in the top-right corner, tap on Subscriptions, tap on Apple Arcade, and select the one-year option.
Apple Arcade provides access to over 100 games across iPhone, iPad, Apple TV, and Mac, all without ads or in-app purchases.
The annual option was first spotted by German blog iFun.de.